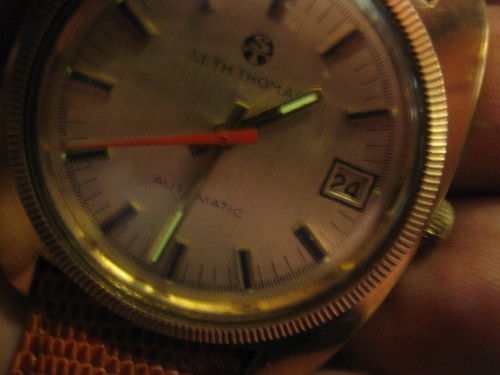 FOR AN AWSOME ROCK  RESTORATION OF WHAT WAS RTHE VERY BEST YEAR CLICK HERE
VINTAGE 1914 FIRST FACTORY DESIGNED Seth Thomas Wrist Watch
15 JEWEL "QUICK TRAIN" [18,000 BPH] HIGH FINISH SETH THOMAS MOVEMENT
WITH FIRST EVER SETH THOMAS FACTORY INTEGRATED LUGS WRIST WATCH CASE
31 X 36 X 11 MM
QUESTION:
Isn't this just a Seth Thomas badged Roamer Automatic? I have four watches
identical to this one and they are all Roamer seventeen jewel movements
and marked roamer on the back. What would indicate that this
watch was designed by Seiko?
MY FELLOW EBAY MEMBER SIMPLY MISSED THE MOST IMPORTANT CLUE IN MY OFFER , AN OFFER WITH A LARGE AMOUNT OF PICS… SO MAYBE THAT IS WHY, .
THE "ROAMER SEVENTEEN JEWEL" 
IF IN FACT HIS MOVEMENT IS THE SAME AS STATED IN OUR OFFER, IT MUST SHARE THE HONORED AND SUPREME MARK OF THE MID 1960'S SEIKO MILITARY MOVEMENT…..THE SAME MOVEMENTS USED TO BUILD MILLITARY ISSUE WATCHES FOR THE VIETNAM WAR….
A-THIS TIME PIECE DOES NOT HAVE ROAMER ANYWHERE. ROAMER WAS ONCE A GREAT COMPANY THAT BUILT GREAT WATCHES UNTIL THE COMPANY WENT BELLY UP.
UNLIKE THE SETH THOMAS BRAND, WELL KNOWN FOR EXCELLENCE AS LATE AS 1975, ROAMER FADED AWAY BY THE LATE 1950'S AND WAS NEVER REPLACED BY ANYTHING GREAT.
THE CASE LOOK?? IF YOU STUDY WATCHES AND HAVE POSTED 150,000 IMAGES OF YOUR RESTORATIONS, YOU WOULD KNOW BY 1970, THE POWER HOUSE WAS  BECOMING  SEIKO. THUS, THE WATCHES YOU HAVE, AND SO MANY OTHERS,  MAY LOOK SIMILAR, LIKE SO MANY BRANDS FOR 100 YEARS!
B- I MEAN LOOK FOR ANY BRAND IN ANY PERIOD AND THEN LOOK AT TEN OTHERS IN THE SAME PERIOD, LIKE SAY 1956, OR 1949, OR 1966, WHAT WILL YOU  NOTE RIGHT AWAY?
ALL LOOK THE SAME. CASES, DIALS, STRAPS. ONLY MINOR DIFFERENCES SEPARATE THE BRANDS. OUTSIDE OF A SPECIAL RELEASE, THEY SURLY WERE MADE THE SAME.
ONE BRAND MIGHT HAVE A NEATER DIAL OR DIFFERENT COLOR, BUT CASE DESIGN , CRYSTALS, AND MANY MOVEMENTS –SOME 30 WATCH BRANDS USED THE SAME MOVEMENT IN EVERY WAY BUT THE SIGNING OF THEIR COMPANY ON THE PLATE/BRIDGES.
NOTE THE AS1475 ALARM MOVEMENT, FROM ROLEX TO CORUM TO BENRUS TO WYLER ALMOST EVERY COMPANY WANTING A WRIST ALARM USED THAT MOVEMENT.
WHAT EVER THE FAD THEY ALL FOLLOWED IT.
I OUTLINED THE HISTORY OF SETH THOMAS  BELOW. AND WHY THIS IS THE LAST OF AN AWESOME BRAND, AND WHAT DID SEIKO CONTRIBUTE. 
FIRST THE SEIKO MILITARY GRADE STAMPED AUTOMATIC SHOWN BELOW,
SECOND THE CASE DESIGN USED TO HOLD THAT AUTOMATIC IS DEFINITIVELY A STYLE DEVELOPED AND INTRODUCED BY SEIKO… PERIOD. SO GO TO B ABOVE.
THIRD: THE DIAL? IF YOUR ROAMERS ARE ROAMING WITH A SIMILAR DIAL, WELL, THEY COPIED THIS SETH THOMAS 1966/1968 DESIGN…
AND FOURTH: FACT IS, TWO OTHER RESTORATIONS WERE COMPLETED AT SAME TIME. ROCK HAS THEM PHOTOED ALL TOGETHER. PLEASE. NOTE CASE DESIGNS AND DIALS.. I REST MY CASE.. PUN INTENDED
ROCK
FOR A COMPREHENSIVE HISTORY OF US GOBVERNMENT ISSUED WATCHES CLICK HERE
SEIKO IN WESTCLOX. BOTH CIVY & MIL

 

TO LEFT THE MILITARY ISSUE PLASTIC WESTCLOX  THIS HAD BOTH THE FRENCH JEANBRUM
AND THE SEIKO M 101 & 201

 

TO THE LEFT IS A WESTCLOX PX-BX-R&R ISSUE THIS HAD BOTH THE FRENCH JEANBRUM
AND THE SEIKO M 101 & 201

TO LEFT THE STEEL MILITARY ISSUE  WESTCLOX   THIS HAD BOTH THE FRENCH JEANBRUM AND THE SEIKO M 101 & 201

1970 WESTCLOX PLASTIC

WESTCLOX 1968P PLASTIC
C-407 SHORT RUN
 

        http://goldsmithwatchworks.com/MAR-2013/1st_generation_1914_seth_thomas_watch.htm

Thomas was born in Wolcott, Connecticut, in 1785. He started in the clock business in 1807, working for clockmaker Eli Terry. In 1810, he bought Terry's clock business though chose to sell his partnership in 1812, moving in 1813 to Plymouth Hollow, Connecticut, where he set up a factory to make metal-movement clocks. He died in 1859.In 1875 the town was renamed Thomaston in Thomas' memory

Thomaston was originally part of the Farmington Proprietor's purchase in 1684 of the Mattatuck Plantation, the Thomaston area achieved independence in 1739, as the Northbury Parish. Northbury and Westbury united in 1780 to form Watertown. In 1795 Northbury again separated to become Plymouth, the Thomaston section was called Plymouth Hollow.

In 1813 a man named Seth Thomas came to the hollow to manufacture clocks. By 1856 Thomas was labeling his clocks with "Thomas Town." He helped route the Naugatuck railroad through Plymouth Hollow, linking Plymouth Hollow with the brass center at Waterbury.

On July 6,1875 Thomas Town became Thomaston in memory of Seth Thomas and the separation from Plymouth was confirmed by the State Legislature.

IN 1859, his son Aaron became president and began to add new clocks to the company's line.The Seth Thomas Clock Company was considered to be one of the premiere American clock manufactures well into the 20th century. Between 1865 and 1879 they operated as Seth Thomas' Sons & Company.

Between 1884 and 1915 Seth Thomas manufactured jeweled pocket watches. In 1931 they became a subsidiary of General Time Instruments Corporation.

The Seth Thomas Clock Company was a premiere American clock manufacturing company that prospered into the 20th century. It's founder, Seth Thomas (1785-1859) , had been manufacturing clocks since 1814. But it was in 1853, that Seth Thomas incorporated the Seth Thomas Clock Company in Sleepy Hollow, Connecticut. And it was the success of the company that led the citizens of Sleepy Hollow to rename the city to Thomaston .

In 1859, Seth Thomas passed away and his son, Aaron, became president of the Seth Thomas Clock Company. Between 1862 and 1880, the decisions of Aaron Thomas would propel the company into the 20th century. He purchased the patent rights of Wait T. Huntington and Harvey Platts of Ithaca, New York to add a perpetual calendar clock and tall case clocks, Tower and Street clocks to their line.

Between 1865 and 1879, Aaron Thomas also operated a subsidiary firm known as Seth Thomas' Sons & Company that manufactured high-grade 15-day mantel clock movements which they supplied to the New York sales outlet known as the American Clock Company.

Between 1884 and 1915 Seth Thomas would use the production facilities of the Seth Thomas clock factory to produce the tooling for the watch factory. The first watch to reach market was an 18-size, stem-wind, 3/4 plate model in 1885. Their early watches were 11-jewel and 16,000 beat train. By 1886, production had started on four additional grades of quick-train (18,000 beat per hour) watches: a 7J, 11J, 15J and 17J model.

Production of pocket and wrist watches under the Seth Thomas Name ceased in 1915 and would not resume until MANY years after the company was purchased by General Time Instruments Corporation during the great depression in 1931.

Production of watches ceased in 1915. In 1931, after the depression hit, like many other watch and clock manufacturers, Seth Thomas would find itself a subsidiary of another large company, in this case it was the General Time Instruments Corporation and Seth Thomas was no longer a family business.

Over the next 50 years, Seth Thomas would decline and eventually, in 1982, moved from Connecticut to Norcross, Georgia. It is stated that The Colibri group of Providence, RI purchased the Seth Thomas trademark and name.

VINTAGE SETH THOMAS 1968 / 1971, MOVEMENT PRODUCED BY SEIKO AT SAME TIME SEIKO SUPPLIED MILITARY WATCHES TO US VIETNAM WAR