GSW SPENDS THE TIME TO PROVIDE BIG MULTIPLE PICS AND THE RESEARCH ON EVERY OFFER SO THAT YOU RECEIVE ONLY THE BEST VINTAGE TIME PIECE AND THE INFO YOU NEED TO KNOW YOUR COLLECTION--
OK, HOW ABOUT ANOTHER BEAUTIFUL WATCH ... -- YEA, I KNOW, EVERYONE SAYS RARE... BUT READ AND LOOK ON.. THIS IS A VINTAGE ORIGINAL POLJOT MILITARY 18 JEWEL DUAL MAIN SPRING 2612 ALARM WATCH . YES, I KNOW YOUR GOING TO SAY "USSR MADE WATCHES ARE ALL CHEAP".. BUT HOLD ONTO YOUR STRAP BUCKLE BEFORE YOU MAKE THE WRONG CHOICE... AND LET THIS ONE GET AWAY!

THERE ARE MANY POLJOT ALARM WATCHES OFFERED FROM RUSSIA AND THE EASTERN EUROPEAN COUNTRIES.. I SEE THEM ALL THE TIME. $35 TO $150 + $15-$30 SHIPPING WILL GET YOU ONE .... BUT IT WILL NOT BE THIS ONE!!! LOOK AT THE ORIGINAL 1959 DIAL AND CHAPTER RING. THE HEAVY SOLID CASE AND 18 JEWEL CALIBRE 2612 MOVEMENT WITH A SHOCK PROTECTED BALANCE WITH IT'S IMPROVED HAMMER AND JEWELED [18TH JEWEL] HAMMER STAFF ..
WE HAVE INSTALLED 2 NEW STEEL MAINS, OVERHAULED, SERVICED AND LUBRICATED THE MOVEMENT, RE-LUMED THE MINUTE & HOUR HAND, RETIPPED THE ALARM SET HAND & ADDED AN ORIGINAL NEOPRENE CASE SEAL AND COATED CRYSTAL.
***************************************************
READY TO WEAR
RESTORED & OVERHAULED
ALL FEATURES WORKING
EXCELLENT CONDITION
VINTAGE
1959-1965
2612
POLJOT
MILITARY
DUAL MAIN
18 JEWEL
DUAL CROWN & MAINSPRING
ALARM WATCH
WITH
LEATHER AND CORK STRAP
[NATO STYLE STRAPS AVAILABLE]

YOU ALSO RECEIVE

FREE A ONE YEAR GSW LIMITED WARRANTY
FREE APPRAISAL WITH INFO TO INSURE ONLINE

US: 19.00 FREE SUPER FAST TWO DAY DOUBLE BOXED
INSURED WITH SIGNATURE DELIVERY!

INTERNATIONAL: 26.00 INSURED SIGNATURE
DOUBLE BOXED REGISTERED MAIL

FREE 800 438 6894 TOLL FREE SUPPORT
M-SAT 11AM - 7 PM EST
****************************************************
MORE GREAT DEALS IN OUR EBAY STORE
***************************************************
PLEASE READ OUR FEEDBACK AS A SELLER
***************************************************

THE VERY FIRST 1959 POLJOT ALARM WATCH ROCK RESTORED
Founded in 1930 under orders from Stalin, the First State Watch Factory was the first Serious Soviet watch and mechanical movement manufacturer.Through it's USA-based trading company Amtorg, the Soviet government bought the defunct Ansonia Clock Company of Brooklyn, New York in 1929, and the Dueber-Hampden Watch Company of Canton, Ohio. It moved twenty-eight freight cars full of machinery and parts from the USA to Moscow in order to establish the factory. Twenty-one former Dueber-Hampden watchmakers, engravers and various other technicians helped to train the Russian workers in the art of watchmaking as part of the Soviet's First Five-Year Plan
.In 1935 the factory was named after the murdered Soviet official Sergei Kirov AND produced Soviet watch brands including Poljot. With the Germans closing in on Moscow in 1941, the factory was hurriedly evacuated to Zlatoust . By 1943 the Germans were in retreat, and the factory moved back to Moscow, adopting the "First Moscow Watch Factory" name Watches and movements produced by the factory always met high quality requirements, because in addition to serving for civil needs they were used to equip the soviet army.
In 1959, First Moscow Watch Factory developed the first Soviet Wrist alarm clock "signal" WITH 2612 DOUBLE CROWN DOUBLE MAINS... A COPY OF THE SWISS AS 1475!!!!!!!!!!
On April 12th 1961 Yuri Gagarin became the first man in space and the watch he wore was a Poljot!
Russian president selects the Poljot 3133 watch as a government gift.

In 1965 cosmonaut Alexei Leonov wore a FMWF Strela chronograph during his historic first space walk, thus cementing Poljot's place in space history.
Poljot watches have accompanied various astronauts in space journeys from different nations including Russia, Germany, France and Ukraine. The Poljot watch even has a world record for duration of a space adventure
AS ALARM MOVEMENTS


AS 1475: 18000 A/h
AS 1568: 18000 A/h, date
AS 1930: 21600 A/h
AS 1931: 21600 A/h, date
NEARLY EVERY BRAND THART OFFERED
ALARM WATCHES FROM 1956 TO 1969
USED THE AS MOVEMENTS. INCLUDING
ROLEX TUDOR.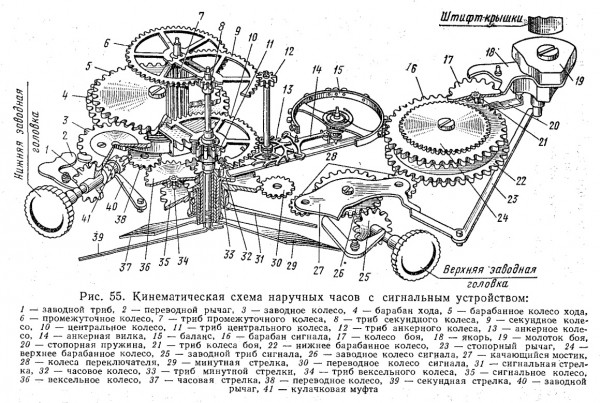 THE RUSSIANS COPIED THE AS 1475 TO CREATE AN ALARM MOVEMENT THAT HAS BEEN USED IN MANY RUSSIAN BRANDS FOR HOME MARKET AND INTERNATIONAL SALES. THUS

POLJOT AND OTHER RUSSIAN ALARMS ARE THE COPY OF THE SWISS 1475 WITH AN EXTRA JEWEL [18 JEWELS].WHILE NOT AS WELL MADE, THIS BABY ENDURED MILITARY USE. THE GREEN AND BLACK 1959/1961 MODEL WAS UTILIZED SO MUCH BY SOLDIERS IT WAS RELEASED AGAIN DURING THE AFGAN WAR

.

1st Moscow Watch Factory
Poljot
Sekonda (RUSSIAN FOR BRITISH MKT)
Cardinal (RUSSIAN FOR CANADIAN MARKET).
NICE ORIGINAL MINTY MILITARY DIAL
ORIGINAL RELUMED HANDS
ORIGINAL MINTY CHAPTER RING
ORIGINAL RED-TIPPED ARROW ALARM HAND
1959-65 POLJOT 2612
CLICK TO HEAR THE ALARM
poljotwecker.mp3

TOP CROWN WINDS ALARM SPRING
PULL OUT TO SET ALARM HAND
PUSH BACK IN FOR ALARM
PULL OUT WHEN ALARM RINGS TO STOP
Operating Instruction:
Wind watch: crown at 4h.
Set time: pull crown at 4h and set time. If you set the time reverse and pass the alarm time, this will be set reverse simultaneously.
Wind alarm: crown at 2h.
Set alarm: pull crown at 2h and set alarm time. The alarm time can only be set reverse, setting forward is inhibited by a freewheel.
Enable alarm: push crown at 2h.
Disable alarm: pull crown at 2h.


THIS POLJOT SPORTS A NICE SOLID THICK CASE
WITH ORIGINAL EASY TO READ MILITARY DIAL
RE-ILLUMINATED. NO POLJOT HAS ILLUMINATON
UNLESS IT IS A NEW MADE IN THE LAST SEVERAL YEARS
&
AN ORIGINAL HASHED SECONDS CHAPTER RING
AN EXTREMELY RARE TO FIND FEATURE
LEATHER AND CORK STRAP
THAT IS AN IMPERIAL RUSSIAN BELT BUCKLE
NOTE THE CANONS AT BOTTOM
IT IS SO OLD IS IS FRAGILE. EVEN WITH 20 YEARS OF SOLDERING
AND CARVING, THIS BABY HAS TO BE ATTACHED
I AM ATTACHING TO LEATHER WITH LEATHER ADHESIVE THEN RIVETS
WILL THEN TURNIT INTO A WATCH STRAP


PERFECT HANDS I LOVE GETTING ALL THE STRAIGHT LACED WATCH MAKERSCRAZY
READ THIS . IT IS A PAGE I PLACED ON EBAY. WILL IOOPEN ASNOTHER WINDOEW
SO YOU DO NOT LOSE YOUR PLACE
ABOVE IS OUR RUSSIAN COPY OF THE AS1475 OVERHAULED
NOTE THE DIAL CENTER AND EDGES
I HAVE TOUCHED HER UP RATHER THAN RESTORING DIAL
I DID PLACE AF LUMINOVA
ANOTHER COATING WILLBE APPLIED
NEW H/D SEAL
INOS HIGH DOMEDCOATED ACRYLIC CRYSTAL
ALLOWS EASY VIEWING OF DIAL
REFLECTS LIGHT OFFERING A CLEAR VIEW
IT IS ALSO RESISTANT TO BREAKAGE
AND IF YOU SCRATCH IT YOU CAN BUFF IT..
AND
IT IS THICK ENOUGH
FOR UP TO 20 BUFFINGS...

THIS IS THE POLJOT
CALIBRE 2612
18 JEWEL DUAL MAIN
SHOCK PROTECTED BALANCE
JEWELED HAMMER STAFF

Features
manual-wind alarm
sweep second

Data
11.5''', Dm= 26mm, H = 5.85mm
18 jewels
f = 18000 A/h
power reserve 47h
alarm 15s
1959-1970

THE POLJOT HAS A HAMMER LOCK PIN
AND THE STAFF IS JEWELED SO IT WILL NOT
WEAR THE STAFF PIVOT OUT IF YOU
ACTUALLY USE THE ALARM
---
*****************************
CONDITION WATCH:
EXCELLENT TO FINE - RUNS EXCELLENT

**************************************
---