PLEASE READ
WE/I HAVE 150 000 IMAGES OF OUR/MY WORKS ONLINE
[IS THAT FACT NOT CRAZY?]:
GOOGLE US
"GOLDSMITHWORKS ANYTHING WATCH"
"GOLDSMITHWORKS JAPAN WWII OR GERMANY OR??"
"GOLDSMITHWORKS NAME OF BRAND
"GOLDSMITHWORKS TYPE MILITARY? DIVE? WHAT EVER?"
SELECT IMAGES WHEM SEARCH IS COMPLETE
JEWELRY WATCHES HISTORY
THERE ARE ONLY 3 OF US AT GSW. OUTSIDE OF BILLING, SHIPPING , SUPPLIES, BILLS AND OTHER BUSINESS RELATED ITEMS , I PERFORM 90% OF THE WORKS. .WHILE UPDATING & MANAGING 16 WEBSITES AND RUN OUR 22 YEAR OLD HOSTING SERVICE AND OUR DEDICATED SERVERS. THUS, I MUST STATE I BELIEVE I SHOULD BE FAIRLY COMPENSATED FOR MY OFFERS -AFTER ALL, I BUY THE WATCH, RESTORE THE WATCH --MOST TO NEAR MINT CONDITION -- AND PROVIDE WARRANTY AND APPRAISAL... AND OVERHEAD INCLUDING 13% TO EBAY AND THEY TAKE THE SAME FROMSHIPPING, SHIPPING I ALREADY SPONSOR, CHARGE 19USA 26INT, COST IS 25 USA 37 INT [PLUS 13%]...........
QUAILITY
DETERMINED TO PROVIDE QUALITY. IF YOU RECEIVE AN ITEM YOU DO NOT LIKE OR IS DAMAGED, SIMPLY WRITE US BECAUSE WE PROVIDE NO QUESTION ASKED REFUNDS.
WARRANTY
FURTHER, A ONE YEAR WARRANTY AND APPRAISAL MEANS WE STAND BEHIND THE HISTORIES, DESCRIPTIONS DATING AND FACTS THAT WE PROVIDE---PERIOD
THESE 8 WEBSITES ARE FOR OUR WATCH/JEWELRY PATRONS. THEY CONTAIN THOUSANDS OF FREE DOCUMENTS, HISTORIES, TRAINING PDF'S AND MORE. note we do not sell from our sites
SOME GSW FREE SITES
MILITARYWATCHBOX GOLDSMITHWORKS GOLDSMITHWATCHWORKS
LSYF VINTAGETIMEREMADEINAMERICA TIMEFRAUD WATCHESANDBOXES
ECALLINTERIORS GOLDSMITHTRAINING ADD .COM
THANKS ROCK
******************************
GOLDSMITHWORKS
150000 RESTORED VINTAGE
WATCH IMAGES ONLINE 24/7
13 FREE WEBSITES
300 FREE VINTAGE WATCH PDF
ALL WITH IMAGES AND HISTORY
NEW!
"WATCH CANDY"tm LEARN RESTORATION
FREE SUPPORT TICKET SYSTEM
EVERY INVESTMENT MEANS
FREE 1 YEAR WARRANTY
FREE ONLINE APPRAISAL
***********************************************
HOLY GEE WIZ... WHAT DO YOU THINK IT COSTS TO INVEST IN A VIETNAM PRIVATE BUY WATCH WITH CUSTOM RED CROSS? TRY 168,00 BUCKS USD4 . NOW I KEPT THE WATCH AS IS AS FAR AS DIAL, BUT SIMPLY DID NOT LIKE THE AMOUNT OF WEAR, SO I TORE IT DOWN TODAY 6 26 2015. YES, I AM DOING A LITTLE MORE TO ILLUMINATION AND OUTLINE NUMBERS AND AS WE SHOWED, THE CROSS WAS DAMAGED AT BOTTOM SO I AM MAKING LIKE IT SHOULD BE
168.00 THEN REPAIR DIAL, OVERHAUL MOVEMENT, NEW MAIN SPRING, SO I CAN WARRANT FOR A YEAR. NOW, TAKE A LOOK AT THE VIETNAM PICS , I PLACED A HUGE SELECTION ON ONE IMAGE. THIS STRAP IS EXACTLY LIKE ONE THAT IS ON A SOLDIERS ARM IN PLATOON. EXACT, NOW ADD THE MAP! THE VIETNAM OILED MAP THAT HIDES IN THE RED CROSS PATCH AND YOU HAVE A HELL OF A STORY TO TELL. WHEN SOME ONE SAYS HEY. WHAT IS THAT" YOU CAN TELL THEM AND PULL THE MAP.
RE-ILLUMINATED
WITH
AF-Luminova

NOTE HANDS AND SWEEPS WERE NOT ORIGINAL
SO I WAITED 3 WEEKS TO P/U THE ORIGINAL HANDS
ILLUMINATED THEM AND PLACED THEM
*****************************
READY TO WEAR
RESTORED & OVERHAULED
VIETNAM ERA
HELIOS
17 JEWEL
CUSTOM
RED CROSS DIALED HELIOS
1968 SPLIT DOUBLE WIDE CUFF STRAP
WITH
HIDDEN VIETNAM MIL CORP MAP

WITH
FREE
PROFESSIONAL
ONLINE APPRAISAL
WITH HISTORY AND ASSOCIATED
INFORMATION
OUTLINED BELOW

AND
FREE
ONE YEAR
GSW
LIMITED
WARRANTY
WITH

19.00 US SUBSIDIZED DOUBLE BOXED
INSURED WITH SIGNATURE DELIVERY!
26.00 INTERNATIONAL SUBSIDIZED SHIPPING
WITH SIGNATURE AND INSURANCE
FREE USA

TOLL FREE SUPPORT

INTERNATIONAL SUPPORT


MON-SAT
11AM - 7 PM EST USA
****************************************
DIAL FINISH AFTER BEING UNDER NORMAL LIGHTING.

6/12/2015
ROCK DECIDED TO RESTORER THIS DIAL. THIS WILL NOT EFFECT THE VALUE AS LONG AS THE RESTORATION IS EXACT. NOTE THE LOOK OF DIAL, THE RED CROSS CONTINUES TO PEEL UNDER LIGHT; THE 24 HR TIME AND EDGES OF THE DIAL ARE BUCKLING. RESTORING THIS DIAL WILL NOT EFFECT VALUE -- IN FACT IT WILL INCREASE VALUE. THE "RED CROSS" DIALS ON HELBROS, HELIOS, AND A FEW OTHER BRANDS, WERE OFFERED DIRECT DURING WWI AND WWII. THEY WERE NEVER MILITARY ISSUE. DURING THE VIETNAM WAR, ONLY SEVERAL HUNDRED WERE MADE. ROCK HAD A HELBROS RED CROSS W/24HR AUTOMATIC HE PURCHASED IN A JEWELRY STORE IN NORTHERN CALI --OFF BEALE AIR FORCE BASE.
"I CANNOT RECALL WHERE IT WENT.... IT WAS PRETTY COOL, BUT THAT YUBA CITY/MARYSVILLE CALI??? And BEALE AIR FORCE BASE? WHILE HOME OF THE SR71 BLACK BIRD AND B-52D, IT WAS HOT AND BLEAK; LIKE OPENING THE DOOR TO A HOT PIZZA OVEN 24/7, I MADE A RAPID DECISION TO *TDY SEA AND LOST THE WATCH ALONG THE WAY. I RECALL LOOKING ALL OVER FOR IT, I WISH I HAD HER NOW. I ALSO RECALL THAT IN 1970/71 YUBA CITY/MARYSVILLE WERE VOTED THE WORSE CITIES IN THE USA "!"
*TEMPOARY DUTY SOUTH EAST ASIA
HERE I AM MAKING SURE THE CUFF WIDTH AND THE OPPOSING ITEMS FIT PERFECT
THOUGH THIS STRAP IS NEW LEATHER, TO GET IT WERE IT IS AND CONITION AND EMBED THE NATURAL PRODUCTS THAT MAKEIT ABLETO WITHSTANDS SWIMMING, DESERT USE, IT TOOK 7 HOURS THE PRODUCTS I USED WILL REMAIN FOR A LONG TIME. JUST A BAMP CLOTH TO CLEAN WENENIF YOU WORE IT ON A 4 WHEELER IN THE DIRT AND SAND. I ACTUALLY WORKED 7 HOURS BEFORE MOUNTING PATCHE, WATCH AND COMPASS. WHO INVESTS IN NEW TO MAKE OLD????? I DO.
TREATED LEATHER
NATURAL WAXES INCLUDING TO BEES WAX
POLISHING COMPOUND
PARAFIN
I USE OF TWO STAGE BUFFING AT 3500 TO 5000 RPMS
LEATHER MALLAT AND NATURAL COTTON CLOTH
HAMMER AND COMPRESS THE
WAXES & OILS
INCLUDES BUFFING AND SATURATION
AND THEN NEETS FOOT
LOOK, I AM NOT A WATCHMAKER, I AM A RESTORATION SPECALIST.
I WORKS WITH SO MANY TOOLS AND COMPLICATIONS IT IS NOT FUNNY
HOW MANY TIMES YOU READ "SERVICED" "OILED" ???
A BULL SHEET IF I MAY SAY SOMETHING!! HOW CAN YOU SERVICE
AND SELL FOR THE PRICES THEY AR SELLING? THEN THERE ARE THE
ROUNDABOUTS... THEY ARE THE NEY SAYERS TRYOING TO PUSH ONE DOWN. WITH STATEMENTS LIKE NOT WORTH IT OR HOW CAN HE PRICE THATAT... AND ,YET, THEY BTCH WHEN E ARE LOW! YWES, IMAGIMNE! HOW CAN HE DO THAT AT THAT PRICE/ THE SAME ONES THAT SAY THAT ID TOO MUCH. LOOK I BUT MOST OFF EBAY. A 100.00 WATCH WILL REQUIRE 125 EASY IN WORK. THEN 13% TO EBAY, WE HAVE NOT GOTTEN TO COSTS OROVERHEAD, HAVE A GREAT WEEK! THANKS FOR READING THIS.
EVEN AFTER TREARNG THIS STRAP, I GO AND NEETS FOOT THE BUCKLE LEATHER
BELOW ARE STAGES OF LEATHER WORKING
THE MAP IS OILED PAPER AND FITS UNDER RED CROSS BADGE
NOT SURE HOW THESE MAPS WERE OILED/WATERPROOFED
THOUGH ROCK IS EXPERIMENTING
A TRENCH WATCH FROM WWI WITH A FRENCH MAP DATED 1913
AND OILED IN 1914-1918, WAS STILL LIKE NEW!
ADDITIONALLY THIS RED CROSS PATCH
HOLDS A SECRET . IT WAS A GREAT IDEA
TAKEN FROM THE BOOK. WHERE MAPS WERE
HIDDEN IN MANY WAYS SO THAT A SOLDIER MIGHT
ESCAPE AND FIND THEIR WAY BACK
[rock aged the patch when he was done]
ROCK STARTED WITH THE RED CROSS PATCH
HE HAD STITCHED IT AT CORNERS AND MIDWAY POINTS
SO HE CUT THE NYLON STICHING OUT SEE ABOVE

IN HIS VAST COLLECTION WAS THE
ABOVE MAP OF SOUTH VIETNAM, LAOS,
CAMBODIA WITH A CLEAR MAPPING
OF CORPS ZONES AS WELL AS
CITIES AND OTHER INFO

THIS IS NOT A STANDARD PAPER MAP
LIKE ONE IN A BOOK OR MANUAL
IT IS "OILSKIN" ACTUALLY TREATED WITH OIL
TO MAKE IT STRONGER AND RESISTANT
TO WATER OR LOSS OF INK,.

NOTE THE STANDING CREASES, THE YELLOW TONE OF THE PAPER
THE WELL PRESERVED NATURE AND THE VISIBILITY OF
THE INKED SIDE TO SHOW THROUGH THE PAPER WITH
NO ASSISTANCE FROM LIGHT

TO PLACE BACK INTO YOUR STRAP AFTER REMOVING TO SHOW

AND SLIDE UNDER THE RED CROSS PATCH


MAP HIDDEN UNDER THE PATCH
JUST THE STRAP WORK IS 7 HOURS
TOOK AN HOUR TO ADD THE MARINE CONDUCT MEDAL
ROCK CHOSE IT IN HONOR OF THE MARINES IN VIETNAM
TWO BUCKLE STRAPS ARE GREAT?
WHEN WEARING YOU CAN HAVE SUPER COMFORT
BECAUSE EACH BUCKLE CAN BE ADJUSTED TO YOUR ARM
SO A WIDE CUFF MAY FEEL BETTER WITH BACK STRAP LOOSER
look AT THE NEAR 5O year old leather STRAP
WE BELIEVE THE LEATHER USED WAS 20 YEARS OF AGE
BEFORE STRAP WAS MADE
BLACK OUTLINED
WITH
RAISED LUME NUMBERS
[RE-ILLUMINATED WITH AF LUMINOVA]
RED 24 HOUR MILITARY TIME
AND
THE RED CROSS
[THE RED CROSS WAS TOUCHED UP]
BLACK OUTLINED
WITH
RAISED LUME NUMBERS
[RE-ILLUMINATED WITH AF LUMINOVA]
RED 24 HOUR MILITARY TIME
AND
THE RED CROSS

THIS 1968 STRAP CUSTOMIZED BY ROCK
IN CELEBRATION AND HONOR
OF THE MEDIC IN VIETNAM
NOTE DIAL WITH NEW ILLUMINATION
BOTTOM OF RED CROSS WAS DAMAGED


WITH 1968 WIDE CUFF LEATHER STRAP
TREATED FOR 6 WEEKS
***********************************************

[1917 W.W.I RED CROSS MILITARY WATCH]
When W.W.I began in Europe in June of 1914, the American Red Cross was a small organization that had yet to fully develope identity or programs. On April 6, 1917, the United States declared war against Germany and the Red Cross as an organization began a period of extraordinary growth. By the time the war ended in November 1918, the Red Cross had transformed itself almost overnight into the large and important organization it is today.
Camp Service (established in 1917). Field directors and their assistants provided supplementary supplies, such as clothing and comfort items, and recreational and welfare services, everything from movies and refreshments to communications and financial aid to military personnel. At home, Camp Service operated in 400 military camps, hospitals and other installations. It maintained 250 buildings of its own, including convalescent houses, nurses' houses, headquarters, warehouses, and garages. Overseas the Camp Service operated in 25 countries providing services to American and Allied servicemen. Through its Camp Service, the Red Cross helped practically every solider, sailor, and marine in the service of the United States.
Canteen Service (1917). The Red Cross provided food and snacks as well as leisure articles, to troops primarily when they were in transit at railroad stations and ports of embarkation and debarkation. By the end of the war, 55,000 canteen workers operated 700 canteens in the United States that served nearly 40 million refreshments. Overseas, the American Red Cross operated 130 canteens in France alone that served some 15 million American and Allied soldiers.
Home Service (1917). Provided aid to the families of service personnel. This included financial assistance, communication between troops and home, and information and guidance regarding such things as government programs and military regulations. By the end of the war, the Red Cross estimated that 50,000 volunteers in 3,620 chapters serving 10,000 American communities had assisted 500,000 dependent families.
Production Corps (1917). Responsible for the production of garments, surgical dressings and other medical supplies, comfort kits, and additional items for the benefit of American and Allied soldiers and sailors and destitute civilians in war-torn countries. Eight million volunteers, with help from Junior Red Cross members, produced over 372 million relief articles during the war years with a value of nearly $94 million. For additional information, see American Red Cross Production Corps.
Nursing Service (1909). Already established as an important branch of the Red Cross before the war, the Nursing Service greatly expanded with the coming of hostilities. Its principal task became to provide trained nurses for the U.S. Army and Navy. The Service enrolled 23,822 Red Cross nurses during the war. Of these, 19,931 were assigned to active duty with the Army, Navy, U.S. Public Health Service, and the Red Cross overseas. The Red Cross also enrolled and trained nurses' aides to help make up for the shortage of nurses on the homefront due to the war effort. Both Red Cross nurses and nurses' aides were also enlisted in the battle against the Spanish influenza pandemic of 1918.
Hospital Service (1916). The Red Cross recruited almost 24,000 nurses and well over 2,000 nurse's aides, physicians, and dietitians to meet the military's needs. It also secured trained medical and psychiatric social workers to help veterans make the readjustment back to civilian life that many found difficult to do.
Hospital and Recreation Corps (1918). This Corps began at the Walter Reed Army Hospital in Washington, D.C. where women volunteers acted as hostesses and provided recreational services to patients, most of whom were war veterans. The women wore gray dresses and veils as uniforms and the soldiers affectionately called them "the gray ladies," the name by which they became officially known after World War II. During World War I, the service quickly spread beyond Walter Reed to both military and civilian hospitals.
Motor Service (1917). The Red Cross Motor Service provided transportation support to canteens, military hospitals, and camps, and was involved in the campaign against the Spanish influenza outbreak of 1918. The Service consisted almost entirely of women volunteers, most of whom used their own cars. Many enrolled in auto mechanics classes in order to be able to make repair
RED CROSS HELBROS
The American Red Cross involvement in World War II preceded the entrance of the United States into the conflict. When hostilities began in Europe in 1939, the Red Cross became the chief provider of relief supplies for the civilian victims of conflict distributed by the Geneva-based International Red Cross Committee. In February 1941, the Red Cross responded to a request by the U.S. government to begin a Blood Donor Service to produce lifesaving plasma for the armed forces in anticipation of America's entry into the war. After the attack on Pearl Harbor on December 7, 1941, the Red Cross quickly mobilized a volunteer and staff force to fulfill the mandates of its 1905 congressional charter requiring that the organization "furnish volunteer aid to the sick and wounded of armies in time of war" and to "act in matters of voluntary relief and in accord with the military and naval authorities as a medium of communication between the people of the United States of America and their Army and Navy."
At home, millions of volunteers provided comfort and aid to members of the armed forces and their families, served in hospitals suffering from severe shortages of medical staff, produced emergency supplies for war victims, collected scrap, ran victory gardens, and maintained training programs in home nutrition, first aid, and water safety. Overseas, Red Cross workers served as field directors providing compassionate support for the troops they accompanied, operated clubs and clubmobiles for the armed forces, and were attached to military hospitals, hospital ships, and hospital trains.
ABOVE BEFORE ROCK REMOVED THE ONE
STITCH TO ENABLE PLACEMENT OF OIL SKIN MAP
At the peak of Red Cross wartime activity in 1945, 7.5 million volunteers along with 39,000 paid staff provided service to the military. Throughout the war years, the Red Cross served 16 million military personnel, including one million combat casualties. By the time World War II ended in September 1945, the American public had contributed over $784 million in support of the American Red Cross. Nearly every family in America contained a member who had either served as a Red Cross volunteer, made contributions of money or blood, or was a recipient of Red Cross services.

*******************************
MORE CUFF WATCHES
AFTER THE FREE PDF BELOW
ARE SOME MORE OF MY PIECES
TAKE A LOOK IN OUR STORE
**************************************************
FIRST ARE FREE PDF
BY ROCK
OFFERED BY GSW
99% OF WATCHES IN THEM WERE
PURCHASED ON EBAY
THEN RESTORED
AND
SOLD AGAIN ON EBAY
US-GOV-ISSUE-VIETNAM-WATCHES
US-GOV-ISSUE-VIETNAM-WATCHES.pdf
5.7 MiB 1786 Downloads
Conversions-and-trench-watches
conversions-and-trench-watches.pdf
3.2 MiB 755 Downloads
HISTORY-OF-AVIATION-WATCHES
HISTORY-OF-AVIATION-WATCHES.pdf
2.9 MiB 865 Downloads
GERMAN-MILITARY-WATCHES
GERMAN-MILITARY-WATCHES.pdf
3.2 MiB124 Downloads
Imperial-japanese-military-watches
imperial-japanese-military-watches.PDF
5.8 MiB 824 Downloads
GLYCINE-AIRMAN
GLYCINE-AIRMAN.pdf
1.0 MiB 738 Downloads
Rolex Marconi Tudor History
rolex_marconi_tudor_history.pdf
1.1 MiB 548 Downloads
British-military-watches-wwi-wwii
british-military-watches-wwi-wwii.pdf
2.4 MiB 737 Downloads
Vintage-alarm-watches-rolex-waltham
vintage-alarm-watches-rolex-waltham.pdf
2.9 MiB 5 Downloads
History--of-military-war-inspired-watches
history--of-military-war-inspired-watches.pdf
1.7 MiB 232 Downloads
1972 BULOVA CARAVELLE DIVE WATCH
VIETNAM WAR PROVEN SYNTHETIC SINGLE CASE
GENUINE DISABLED AMMO

CELEBRATING THE 82 AIRBORNE
WITH GENUINE 1913/14 OILED ESCAPE MAP OF FRANCE
HIDDEN UNDER PATCH

BIG RED ONE IN VIETNAM
ABSOLUTE WWI LANCET POCKET WATCH WRIST CONVERSION
FULL RESTORE CUSTOM STRAP
ANOTHER ONE OF MY PIECES
CENTER AIRBORNE USING JAWAN FOR WATCH
A CAMO VERSION AWESOME
TREATED TO LOOK AGED,
RESISTS WATER OR HEAT DAMAGE,
LAST BUT NOT LEAST THE CAMO FINISH
REMEMBER TO USE A WW2 KOREAN
WAR OR VIETNAM ERA WATCH
PRICE IS AVERAGE 150.00 MORE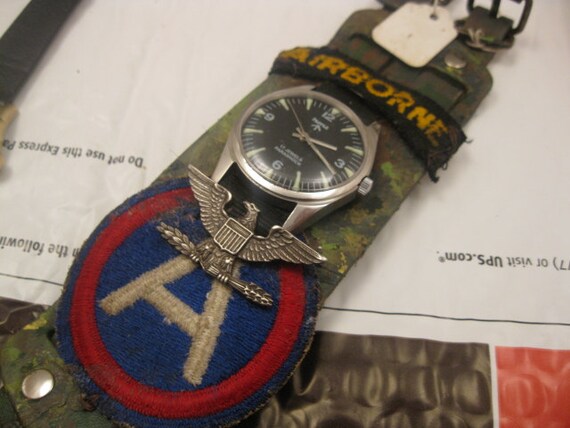 WONDERFUL CUFF WWII ERA OFFER

HONOR MARINES
THE ABOVE WIDE CUFF DUAL STRAP
MILITARY CUFF IS AVAILABLE
THIS ONE CELEBRATED AIRBORNE
1O1ST WWII - VIETNAM
REMEMBER TO USE A WW2 KOREAN
WAR OR VIETNAM ERA WATCH
PRICE IS AVERAGE 150.00 MORE
HMT AND 50'S COMPASS
6 WAYS TO WEAR THEM~
---
************************
CONDITION
- EXCELLENT-
WATCH WINDS SETS & KEEPS TIME
**************************************\

WITH YOUR INVESTMENT YOU RECEIVE:
C) FREE A ONE YEAR GSW LIMITED WARRANTY
D) 699.00 PROFESSIONAL INSURANCE **APPRAISAL
**
APPRAISALS ARE STORED ON A GSW DEDICATED SERVER APPRAISAL WEBSITE WHERE YOU MAY DOWN-LOAD, COPY-TO OR FORWARD TO YOUR INSURANCE COMPANY OR JEWELERS MUTUAL ONLINE 24/7
---