PLEASE READ
WE/I HAVE 150 000 IMAGES OF OUR/MY WORKS ONLINE
[IS THAT FACT NOT CRAZY?]:
GOOGLE US
"GOLDSMITHWORKS ANYTHING WATCH"
"GOLDSMITHWORKS JAPAN WWII OR GERMANY OR??"
"GOLDSMITHWORKS NAME OF BRAND
"GOLDSMITHWORKS TYPE MILITARY? DIVE? WHAT EVER?"
SELECT IMAGES
JEWELRY WATCHES HISTORY
THERE ARE ONLY 3 OF US AT GSW. OUTSIDE OF BILLING, SHIPPING , SUPPLIES, BILLS AND OTHER BUSINESS RELATED ITEMS , I PERFORM 90% OF THE WORKS. .WHILE UPDATING & MANAGING 16 WEBSITES AND RUN OUR 22 YEAR OLD HOSTING SERVICE AND OUR DEDICATED SERVERS. THUS, I MUST STATE I BELIEVE I SHOULD BE FAIRLY COMPENSATED FOR MY OFFERS -AFTER ALL, I BUY THE WATCH, RESTORE THE WATCH --MOST TO NEAR MINT CONDITION -- AND PROVIDE WARRANTY AND APPRAISAL... AND OVERHEAD INCLUDING 13% TO EBAY AND THEY TAKE THE SAME FROMSHIPPING, SHIPPING I ALREADY SPONSOR, CHARGE 19USA 26INT, COST IS 25 USA 37 INT [PLUS 13%]...........
QUAILITY
DETERMINED TO PROVIDE QUALITY. IF YOU RECEIVE AN ITEM YOU DO NOT LIKE OR IS DAMAGED, SIMPLY WRITE US BECAUSE WE PROVIDE NO QUESTION ASKED REFUNDS.
WARRANTY
FURTHER, A ONE YEAR WARRANTY AND APPRAISAL MEANS WE STAND BEHIND THE HISTORIES, DESCRIPTIONS DATING AND FACTS THAT WE PROVIDE---PERIOD
THESE 8 WEBSITES ARE FOR OUR WATCH/JEWELRY PATRONS. THEY CONTAIN THOUSANDS OF FREE DOCUMENTS, HISTORIES, TRAINING PDF'S AND MORE. note we do not sell from our sites
SOME GSW FREE SITES
MILITARYWATCHBOX GOLDSMITHWORKS GOLDSMITHWATCHWORKS
LSYF VINTAGETIMEREMADEINAMERICA TIMEFRAUD WATCHESANDBOXES
ECALLINTERIORS GOLDSMITHTRAINING ADD .COM
THANKS ROCK
******************************
GoldSmithWorks/Aviator-Watch-History
A TRUE 24 HOUR MOVEMENT
WITH A TRUE 24 HOUR DIAL
********************************************
DIAL IS ORIGINAL WITH ONLY A FEW FIXES
A LITTLE WHITE ENAMAL AND SOME RE-ILLUMINATION

CASE IS IN EXCELLENT CONDITION

HAS DATING OF 1943
MOVEMENT IS FANTASTICALLY & FULLY OVERHAULED WITH A NEW MAIN SPRING
STEM, NEW BALANCE STAFF AND HAIR SPRING

READY TO WEAR
RARE
MILITARY 24HR WRIST WATCH
LOOK I SEE RARE ON EVERY THIRD WATCH OFFER ON THE BAY. THEN COMES THE FACT 70 PERCENRT OF EBAY WATCH SELLERS SEEM TO DISCOVER THE WRONG FACTS; SUCH AS WHEN I PLACED A SEARCH FOR A TRUE 24 HOUR VINTAGE WATCH. A PERSON HAD A BULOVA THAT LOOKED LIKE AN A-17 [LIKE THE WWII A-11 WITH EXTRA MILITARY 24 HOUR NUMBERS ON DIAL] PILOTS WATCH.
WHILE THE A-17 HAD 24 HOUR MILITARY TIME DIAL, IT DID NOT HAVE A TRUE 24 HOUR RUNNING MOVEMENT.BUT WHAT GOT ME WAS THAT THIS "INFORMED" PERSON MADE THE WRITTEN STATEMENT THAT SAID " WATCH OUT FOR OTHER 24 HOUR WATCH OFFERS . BULOVA WAS THE ONLY COMPANY WITH A 24 HOUR WATCH".........

1944
ABSOLUTE
WWII ERA
HELBROS
RADIUM DIALED
TRUE 24 HOURS EVERY DAY
61-B
[ON STEROIDS]
MILITARY
WRIST WATCH

AND
AN ORIGINAL VIETNAM ERA
PILOTS MILITARY STRAP
WITH A PERMANANT
AND
FREE ONE YEAR GSW LIMITED WARRANTY
WITH
FREE APPRAISAL WITH INFO TO INSURE ONLINE
PLEASE ALLOW SEVERAL WEEKS FOR LINK
SHIPPING
19.00 US SUBSIDIZED DOUBLE BOXED 2 DAY AIR
PARCEL PRO INSURED WITH SIGNATURE DELIVERY!
26.00 INTERNATIONAL SUBSIDIZED REGISTERED
SHIPPING WITH SIGNATURE AND PARCEL PRO INSURANCE
*******************************************
FREE 800 438 6894 TOLL FREE SUPPORT
INTERNATIONAL +17708311257
M-SAT 11AM - 7 PM EST
*******************************************
HELBROS WWII HISTORY

In 1913, when only the relatively well-to-do could afford a timepiece, Helbros was created by the Helbein Brothers. The middle class Swiss German watchmakers goal was to manufacture quality timepieces affordable to the working public. Throughout the 20's and 30's, Helbros became a household name and by the 40's and WWII, Helbros was supplying watches to American Forces and a major promoter of the War Bond efforts of the United States.
**********************************
This is an extract from a book about Helbros and money channeling in WW2:
***********************************************************
Quick as a Flash was a 30-minute radio quiz program which featured drama segments with guest actors from radio detective shows.
Created by director Richard Lewis and emcee Ken Roberts, the program debuted over the Mutual Network on Sunday, July 16, 1944. Sponsored by the Helbros Watch Company, the show was produced by Lewis and Bernard J. Prockter with scripts by Gene Wang. Music was by Ray Bloch and the Helbros Orchestra.Six contestants from the studio audience competed for cash and other prizes. Clues were presented in the form of dramatic sketches covering such subjects as current events, movies, books and historical situations. With a buzzer, a contestant could interrupt at any time to submit an answer.
************************************
OK. THIS IS A FIRST. I DID NOT RESTORE THE DIAL

RESTORED BY ROCK
HELBROS
24 HOUR

RESTORED BY ROCK
HELBROS
24 HOUR
RESTORED BY ROCK
BELAIR
24 HOUR
NOT RESTORING A DIAL IS A RARE OCCURANCE FOR ME
WHAT IS THE REASON I AM LEAVING IT AS IS?
OOOPS... EXCEPT SOME ILLUMINATION ?
THE DIAL IS AWESOME
EVEN THOUGH IT HAS GONE THROUGH HELL
I BELIEVE IT WILL GAIN A GREAT DEMABND AS IS

IT STILL HAS BURNED YELLOW WWII DEPLEATED RADIUM
I WILL RESTORE THE DIAL IF YOU LIKE
FOR AN ADITIONAL 125.00


NOTE THE 24 HOURS. THE TIMEPIECE ACTUALLY GOES THROUGH 24 HOURS EVERY DAY
I USED SAFE LUMINOVA APPLYING IT OVER SOME OF THE DEPLETED RADIUM
IT IS NOT PERFECT BECAUSE THE YELLOW DEPLETED RADIUM IS NOT PERFECT ANYMORE
HANDS CLEANED
READY FOR LUME
I ADDED SOME WHITE TO CENTER [WHITE] IT IS THE PIE SLICE
NEAR THE CENTER RED SECONDS TO THE NUMBER "6"
HANDS ILLUMINATED

HAS 1 THROIUGH 24
A BLACK [NIGHT] AND WHITE [DAY] CENTER CIRCLE
THE REGULR LARGER NUMERALS WERE ILLUMINATED
THE 12 OTHER HOURS HAD ILLUMINATION THROUGH RADIUM DOTS
THERE ARE 6 DOT POINTS IN THE BLACK/WHITE CIRCLE
BUT FOR ONCE, I WILL AGREE, THIS BABY WAS UTILIZED
WWII - KOREA - VIETNAM
MOVEMENT IS FULLY OVERHAULED
WITH A NEW MAIN SPRING, STEM
NEW BALANCE STAFF AND HAIR SPRING

A 17 JEWELED 24 HOUR TRAIN


[WHEELS/GEARS FOR THE WATCH DRIVE HAVE
MORE TINES TO ENABLE 24 HOURS VS 12 HOURS]
HELBROS
17 JEWEL
CAL 61 B
TRUE 24 HOURS
The "Ruptured Duck" .
The plan for a multi-service branch, universal Honorable Discharge Lapel patch originated in 1919 at the close of WWI. The purpose of the patch, and later pin, was to permit Honorably Discharged military personnel to wear their uniform for a period of time after they left military service due to their inability to afford civilian clothes, while at the same time identify themselves as no longer active duty personnel.
The pin version of the patch was intended to permit civilian dressed, Honorable Discharged personnel to identify their former military status easily when applying for work or veteran's benefits. The patch and pin were also intended to replace and supersede all previous Honorable Discharge devices. Neither the patch nor pin were put into production until years later.

The Ruptured Duck is a permanent 'hardware' device with no expiration date. It has replaced all previously issued Honorable Discharge lapel pins. The "Ruptured Duck" is the only official all-branch "Honorable Discharge" lapel pin. The current Army, Coast Guard and Navy pins sometimes issued to Retirees are "Honorable Service" pins that are authorized principally to age and medical retirees. The military definitions of "Discharge" and "Service" are not to be confused as meaning the same.

Although there is no regulation that requires any branch of the US military to issue any military award 'hardware' item, just as all military medals, badges and other 'hardware' items, the Ruptured Duck is still purchasable in US military Post and Base Exchanges and continues to be manufactured by official US military medal suppliers.
REMOVING THE STRAP MEANS REMOVING THE SPRING BARS
BECAUSE THE RUPTURED DUCK CANNOT BE REMOVED
A TRUE MILITARY STRAP
NOTE THE YELLOW "STUFF"? IT IS HARMLESS DEPLETED RADIUM
COLOERS OF THE HANDS ARE AS I RESTORED THEM
INFACT THE TAIL OF THE CENTER RED SWEEPS SECONDS HAND
ACTUALLY HAD SOME COLOR LEFT OVER A WEIRD GREEN
DENISE , THE KICK BUTT INTERIOR DESIGNER[AND JEWELRY!!]
MIXED HER ACRYLICS AND MATCHED THE GREEN GLOW???


WHAT IS COOL ABOUT THE ORIGINAL FEATURES, IT LOOKS LIKE A MECHANICAL DIAL!
WITH THE RAISED ILLUMINATION RED HANDS, BLAK AND WHITE LUMED HANDS
THE WEIRD GREEN COLOR ON TAIL AND HOUR/MINTURE POINT ENDS
YES. IT LOOKS LIKE A DASH BOARD OF TIME.
****************************************

*******************************
MORE CUFF WATCHES
AFTER THE FREE PDF BELOW
ARE SOME MORE OF MY PIECES
TAKE A LOOK IN OUR STORE
**************************************************
FIRST ARE FREE PDF
BY ROCK
OFFERED BY GSW
99% OF WATCHES IN THEM WERE
PURCHASED ON EBAY
THEN RESTORED
AND
SOLD AGAIN ON EBAY
US-GOV-ISSUE-VIETNAM-WATCHES
US-GOV-ISSUE-VIETNAM-WATCHES.pdf
5.7 MiB 1786 Downloads
Conversions-and-trench-watches
conversions-and-trench-watches.pdf
3.2 MiB 755 Downloads
HISTORY-OF-AVIATION-WATCHES
HISTORY-OF-AVIATION-WATCHES.pdf
2.9 MiB 865 Downloads
GERMAN-MILITARY-WATCHES
GERMAN-MILITARY-WATCHES.pdf
3.2 MiB124 Downloads
Imperial-japanese-military-watches
imperial-japanese-military-watches.PDF
5.8 MiB 824 Downloads
GLYCINE-AIRMAN
GLYCINE-AIRMAN.pdf
1.0 MiB 738 Downloads
Rolex Marconi Tudor History
rolex_marconi_tudor_history.pdf
1.1 MiB 548 Downloads
British-military-watches-wwi-wwii
british-military-watches-wwi-wwii.pdf
2.4 MiB 737 Downloads
Vintage-alarm-watches-rolex-waltham
vintage-alarm-watches-rolex-waltham.pdf
2.9 MiB 5 Downloads
History--of-military-war-inspired-watches
history--of-military-war-inspired-watches.pdf
1.7 MiB 232 Downloads
SOME MILITARY CUFF WATCHES AVAILABLE
1972 BULOVA CARAVELLE DIVE WATCH
VIETNAM WAR PROVEN SYNTHETIC SINGLE CASE
GENUINE DISABLED AMMO

CELEBRATING THE 82 AIRBORNE
WITH GENUINE 1913/14 OILED ESCAPE MAP OF FRANCE
HIDDEN UNDER PATCH

BIG RED ONE IN VIETNAM
ABSOLUTE WWI LANCET POCKET WATCH WRIST CONVERSION
FULL RESTORE CUSTOM STRAP
ANOTHER ONE OF MY PIECES
CENTER AIRBORNE USING JAWAN FOR WATCH
A CAMO VERSION AWESOME
TREATED TO LOOK AGED,
RESISTS WATER OR HEAT DAMAGE,
LAST BUT NOT LEAST THE CAMO FINISH
REMEMBER TO USE A WW2 KOREAN
WAR OR VIETNAM ERA WATCH
PRICE IS AVERAGE 150.00 MORE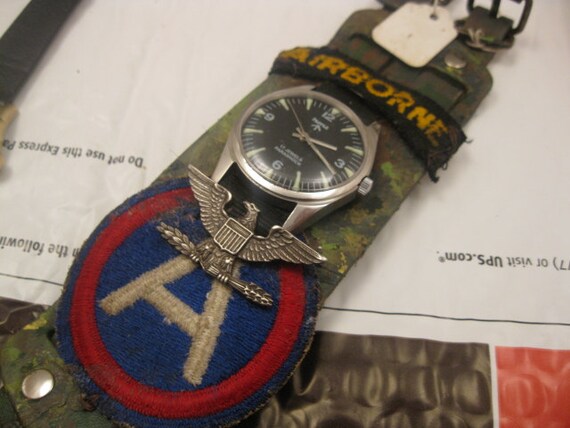 WONDERFUL CUFF WWII ERA OFFER

HONOR MARINES
THE ABOVE WIDE CUFF DUAL STRAP
MILITARY CUFF IS AVAILABLE
THIS ONE CELEBRATED AIRBORNE
1O1ST WWII - VIETNAM
REMEMBER TO USE A WW2 KOREAN
WAR OR VIETNAM ERA WATCH
PRICE IS AVERAGE 150.00 MORE
HMT AND 50'S COMPASS
6 WAYS TO WEAR THEM~
---
************************
CONDITION
- EXCELLENT-
WATCH WINDS SETS & KEEPS TIME
**************************************\

WITH YOUR INVESTMENT YOU RECEIVE:
C) FREE A ONE YEAR GSW LIMITED WARRANTY
D) 899.00 PROFESSIONAL INSURANCE **APPRAISAL
**
APPRAISALS ARE STORED ON A GSW DEDICATED SERVER APPRAISAL WEBSITE WHERE YOU MAY DOWN-LOAD, COPY-TO OR FORWARD TO YOUR INSURANCE COMPANY OR JEWELERS MUTUAL ONLINE 24/7
---